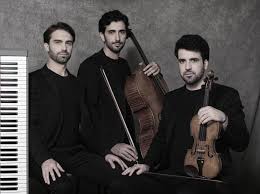 The Trio Zadig
Venue
United Reformed Church on Tuesday 11th February 2020 at 7:30 pm
Admission
Single Tickets to non-Members: £18. Tickets to Ordinary Members £15.
Accompanied children Free. Unaccompanied children and students under 25 – £5.
Programme
Haydn: Gypsy Trio
Beethoven: Ghost Trio
Schubert: String Trio in E flat
Artist Details
Ian Barber – piano
Boris Borgolotto – violin
Marc Girard Garcia – cello
Awarded 11 international prizes, the Trio Zadig captivates audiences with its virtuosity, elegance and irresistible enthusiasm.